Chris Martin and Dua Lipa spotted kissing each other at the Glastonbury Festival
There has been a brief history between Chris Martin, the former singer of the famous band  "Coldplay" and singer and songwriter Dua Lipa flirting with each other. They were spotted together in 2017 the two of them even collaborated on one of Dua's song named "Homesick," which eventually led to the rise of rumors of them dating.
However, recently, Chris was spotted kissing Dua at the Glastonbury Festival. Throughout the festival, they were each other's constant and were often seen getting cozy with each other.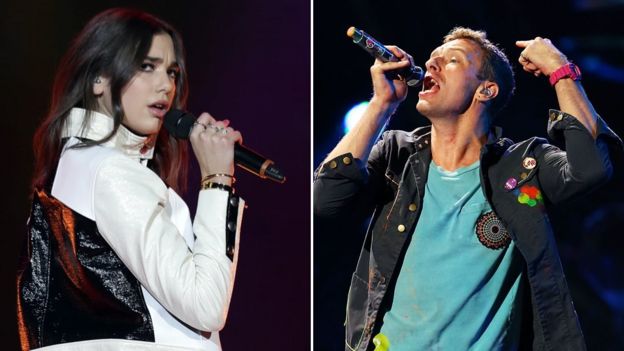 Its been only a few weeks since Chris Martin broke up with Dakota Johnson, who we might recognize as Anastasia Steele the lead character in the movie Fifty Shades Of Grey, and it seems like Chris is not much effected from the breakup.
Before his relationship with Johnson, Martin was married to Gwyneth Paltrow for ten years, and they have a 15-year-old daughter Apple, and a 13-year-old son Moses.
On the other hand, Dua Lipa also recently got out of her relationship with Model and chef Isaac Carew. And it seems like both Chris and Dua are simply enjoying their single lives now, but together.
However, some of Chris's representatives denied the hook up between the two at the festival; they said that "Contrary to reports in some press today, we would like to confirm that Chris and Dua did not kiss at Glastonbury and are just friends,"
©mirror.co.uk
"They were both in the same area of the festival with a larger group of friends."