Sophie Turner and Joe Jonas recently got married for the second time in Paris. They recently shared new pictures of their wedding and they are just as sweet as you imagined.
The pair shared a black and white image on their Instagram pages which show Sophie Turner in a gorgeous white wedding gown and Joe Jonas in a dark suit and bowtie, as they walk down the aisle, hand in hand. The ceremony was held at Chateau du Martinay in Carpentras in Southern France.
https://www.instagram.com/p/BzetyOqhAQq/
Sophie Turner's wedding gown was designed by Louis Vuitton's artistic director of women's collections Nicolas Ghesquiere, who posted an image of Turner looking absolutely gorgeous in the white gown with long sleeves and the lacy veil.
https://www.instagram.com/p/BzeiaV7okQw/
The pair reportedly got teary eyed while exchanging vows for the second time and their family and friends were very supportive of the two. Maisie Williams, who is Turner's best friend was present at the wedding as a bridesmaid. Priyanka Chopra, who is Jonas' sister-in-law, also reportedly had tears in her eyes during the ceremony because she was happy for the two of them.
Chopra also helped the couple plan the wedding seeing as she had just had hers and the wedding went ahead without a hitch.
"Sophie and Priyanka really bonded while planning the wedding," a source said. "Priyanka, having just experienced it, was so helpful with details and they have become so close. The wedding went off without any issues at all."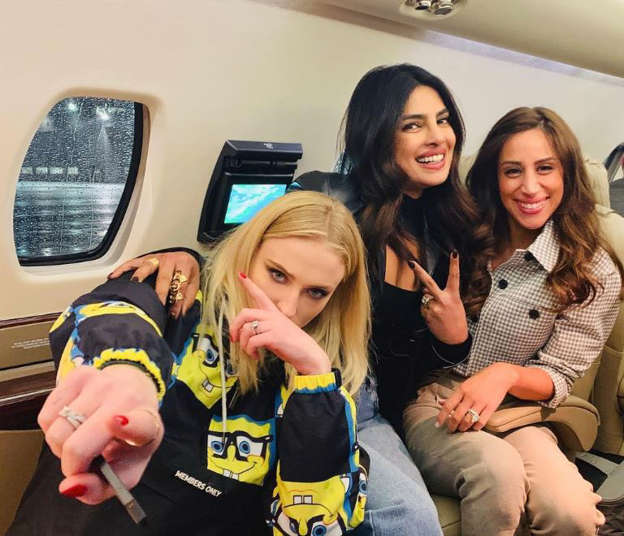 The guest list, albeit small, contained more than enough celebrities to make it seem like a red carpet affair. Diplo, the DJ who revealed the details of Sophie and Joe's first wedding that took place in Las Vegas, via an Instagram live, was invited to the wedding. He was not only a guest but was the DJ for their reception. Although co-star Emilia Clarke couldn't attend the wedding because she was attending the Glastonbury Festival according to her Instagram.
https://www.instagram.com/p/BzVmMeqnsHt/
The bride walked around in her wedding dress all day and shared a dance with her father. Joe did the same with his mother. All of the Jonas brother and their wives were present at the wedding. Kevin Jonas' toast was reportedly more sentimental than Nick's who chose a more humorous approach.After the wedding, the couple held a reception at the Chateau, where everyone changed into more comfortable clothes.
https://www.instagram.com/p/BzT17J3itM0/?utm_source=ig_embed
Singer-songwriter Joe Jonas, and Game of Thrones star Sophie Turner were first spotted together in 2017 and confirmed their relationship later that year. They had an informal, fun wedding in Las Vegas earlier this year in May after the Billboard Awards. We wish the couple all the luck and love for their wedding.